Mike Ibrahim
What is the Best App for International Texting and Calling
International texting and calling apps are a must have to keep in touch with those loved ones out of country. No matter if your favorite smartphone is an iPhone, Android or Windows, without international calling or texting apps, those charges can easily shoot through the roof, incurring enormous charges and limiting your ability to stay in touch with friends, family and loved-ones in other countries. Everyone wants more bang for their buck and making sure you can talk to your loved ones without spending a fortune is important.
International Calling and Texting apps that Rely on Wi-Fi
There are a few apps out there for both Android and Apple devices that offer their services that run though a Wi-Fi connection. And while this might seem great because they are free, they have limitations. For starters not everyone has access to an internet connection much less a smart device to install these apps on. Another downside to internet based apps, you will experience lag and drop outs if you don't have a strong enough signal or usage throttling on either end, not to mention all the data you will go through while making these calls. With the Sin Pin app all you need is a phone signal which is much more accessible around the world.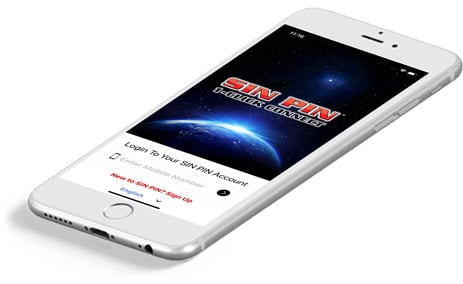 Instant Messaging Apps
Even though the primary use of these apps is texting, many allow you to make calls as well; sometimes with video. Many of these apps need both parties to have the app on their phone or device. Both parties need to have an account and a unique number on these devices so you can't call the family landline or your friend's cell phone number. This also means that if that phone is "offline", where they don't have an internet signal or 3G, you won't be able to contact them. This gives you a slow and cumbersome experience, hindering your ability to have a sharp connection to those you are trying to contact.
Why Choose Sin Pin's International Calling App
Sin Pin has developed an app that is a fantastic tool for keeping in contact with friends and family around the world, without having to jump through 3rd party provider hoops and having a bunch of extra numbers. You can enjoy low-cost, high-quality international calls and the ability to top up your prepaid mobile phones with only a few screen touches or even on a computer. You also get to benefit from special promotions and offers for lots of different countries.
This is free to download on both iPhone and Android devices. Sin Pin is both a top free international calling app for Android, and an international calling app for iPhone. This simple mobile international calling app lets you cut away all the extra costs and charges that come from using so many calling companies as you travel or work overseas.
With Sin Pin you can top-up your prepaid mobile plans quickly and easily. You are also able to send friends and family airtime refills. This is compatible with the largest mobile operators on the planet such as Verizon, Claro, AT&T, Tigo, and many more. You will be able to quickly and securely send these airtime top-ups to over 80 countries.
So if you are looking for a better way to manage your international calling plans across various devices, a better way to contact friends and family, then download the free Sin Pin app today and see for yourself how you can better improve your ability to keep in contact with those who care about you.
Learn more about our app here!
See the benefits of a mobile recharge app and how it can help you stay in touch with your loved ones