Victoria Young
What is an International Mobile Recharge App?
Staying in touch with friends and family during difficult times is a must. It's hard though, when someone you care about is in another country. Dealing with the hassles of expensive phone contracts means being stuck in a plan that might not be a good fit. And video calling software is insecure, spotty, and often requires internet connection. The options for affordable communication are certainly limited for users checking in on someone, particularly for those half a world away.
This is the problem that birthed Sin Pin, the telephone solution that is here to help people connect all over the world. Designed to serve both domestic and international calls, Sin Pin's 1-Click Connect feature is the reliable and economic phone service you've been looking for. It's the best of both worlds, with the freedom of the pay-as-you-go model and reliability you can count on when you need it the most. Sin Pin's top-ups are available in any amount, and our generous rates package for phone recharges covers use from Afghanistan to Zimbabwe.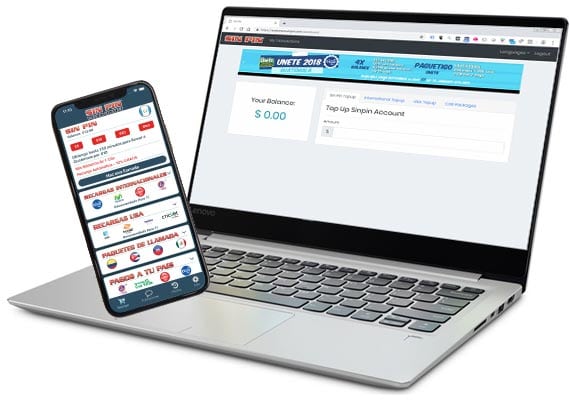 Sin Pin's global network works with any mobile phone or landline, so compatibility issues are never a problem. Telecom providers like Telecel, Verizon, Lycamobile, AT&T, Red Pocket Mobile, Ultra Mobile, Airvoice, Digicel, and Tracfone offer promotions through Sin Pin.Preferred by users in the Google Play app store and long held as the number one calling app for consumers calling Mexico, Cuba, El Salvador, Guatemala, Haiti, Honduras and other countries, Sin Pin is part of a communication revolution that is changing how everyday people are calling each other. Our setting languages include English, French, and Spanish, and the Sin Pin support team may be reached via phone or email to help you with any questions that you might have!
As the Sin Pin family understands that the coronavirus has caused worldwide uncertainty, we want to let potential users know that we're here for you. Our phone service has a host of appealing features. The international mobile recharge app gives users the ability to recharge phone credits for use in over 100 different countries. First time users get $2 FREE of Sin Pin international calling service when they download the app or $1 FREE when they sign up online. Sin Pin even offers users the means to save money with special promotions to your favorite country and the chance to invite friends to join satisfied Sin Pin users all over the world. Sure, you can keep on using the same service you've been using and throw money away, but why not cancel your current service and join our community?
Don't be without the means to make sure that your loved ones are doing okay. If you're looking for a great way to stay connected with those you love, then look no further! Download the Sin Pin app today through the Google Play or Apple Store, or sign up online!
Learn more about our app here!